20 Nov

Mercury Group delivers new website for allen-transport.co.uk

Mercury Group is delighted to have completed a new website for a leading international logistics business.
Allen Transport Limited proving a weight off the mind in logistics
Allen Transport Ltd continues to accelerate in the supply and transport of heavy construction and excavation materials and equipment.
The company was founded in 2012 as a regional supplier with tippers, crushers, tractors and excavators. Its simple formula to provide the highest quality service at truly competitive prices, has seen the company spread far beyond its original base in Aberdeen, Scotland.
Allen Transport Ltd now also has a base in Middlesex in England – ideally placed to serve the whole of the British Isles and Europe with the cost-effective transport and equipment provision that the industry demands.
The core customer base is the construction and civil engineering industries, but staff routinely work in all sectors which need efficient, reliable, and affordable transportation of materials and goods.
The number of staff has increased massively over the seven years, with hundreds of professionally trained and highly qualified people working across the UK, Ireland and Europe.
Meet the fleet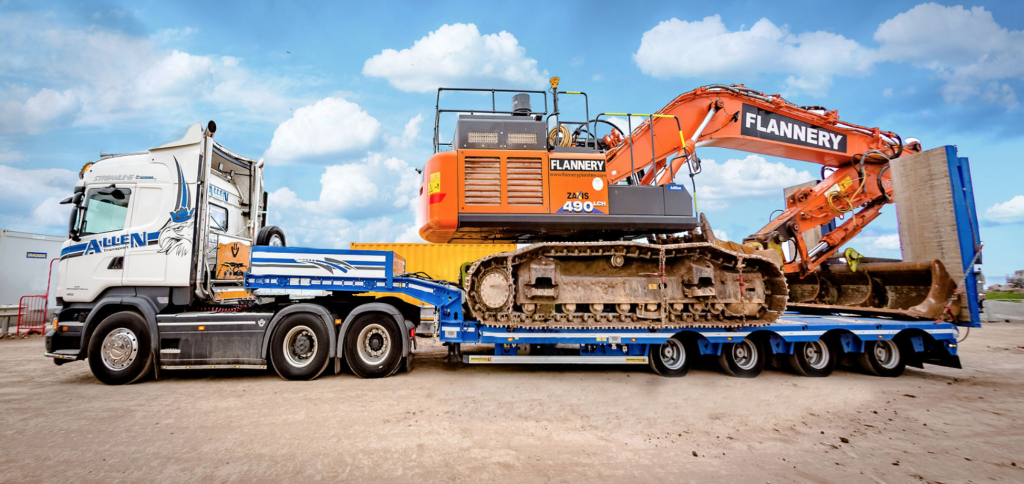 With great growth comes great investment. Allen Transport Limited is always looking to keep ahead of the game.
The company has a full range of vehicles and heavy machinery capable of handling haulage and logistics projects in multiple industry sectors.
The fleet currently consists of over 30 plus vehicles, including excavators, tractors and low loaders – with additions made on a regular basis.
The company has 30 low loader lorries for hire, fully equipped for carrying loads which are both heavier and taller than average, ensuring that a range of equipment and machinery can be transported safely and legally.
Their latest-specification tippers have the durability and robustness needed for the demands of the largest projects in construction, civil engineering and a range of other sectors.
The crushers they supply for hire are trusted for capability to crush and pulverize in a timely and effective manner. They may be used to reduce the size, or change the form of waste materials.
Among the company's fleet also includes high-specification tractors offering unrivalled power and traction for use on all kinds of projects; and excavators which deliver exceptional performance, great versatility and fuel efficiency.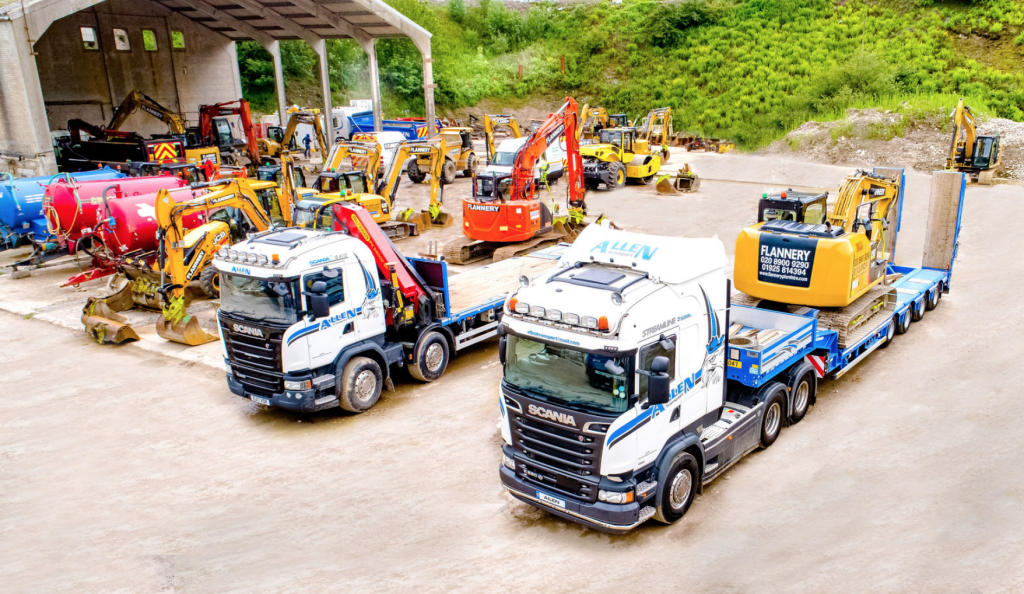 The Allen Transport Way
Allen Transport is becoming the transport and logistics provider of choice for organisations across many sectors both here and overseas. Just a few who are turning to the company for road and specialist transport, tankers and fleet management are Balfour Beatty, BAM Nuttall, Transport Scotland and P Flannery.
The company puts its success down to its close working with each of its clients to develop strong relationships and gain a deep understand of their requirements. The aim is to operate as an extension of their business – which often proves to be the difference between good and great.
Business dealings are kept simple and transparent, with Allen Transport Limited working hard to deliver value for money through careful planning.
As a provider of high-quality services for safety-critical industry sectors, staff take seriously their responsibility to keep all people safe, doing everything they can to do so.
Work is also carried out with the protection of the environment to mind, working with local communities and businesses to generate long-lasting and sustainable economic benefits.
Contact the company today for a free, no obligation quotation. Visit: www.allen-transport.co.uk or call 01224 729345. You can also email: allentransport@mail.com or allenstransportscotland@gmail.com.